Ensuring the suitability of the soil and other land features is essential to choosing the most appropriate site for roadway, civil, and structural projects. Geotechnical services provide thorough and reliable investigation into proposed sites as well as design services to ensure safe and dependable construction and finishing. Put your trust in our decades of experience in the civil, educational, medical, and government industries.
We offer a wide variety of services
Soil and foundation investigation
Settlement analysis
Shallow and deep foundation system design
Slope stability analysis
Soil improvement services
Hydraulic analysis
Response spectrum analysis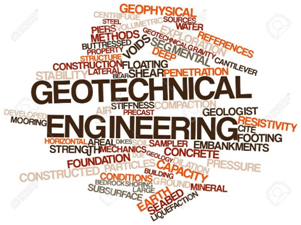 Let us provide you with information on the suitability of your soil
Description of sub-surface soil profile
Probable settlement estimates
Fill and compaction requirements
Foundation bearing capacities
Ground water table elevations
Pavement recommendations and design
Evaluation of slope stability issues
Hydraulic concerns
Prepare for potential settlement and reliable foundations
When planning a construction project, settlement is an important consideration. Some structures are particularly sensitive to settlement and the potentially negative effects. Settlement analysis evaluates the properties of the soil and how this soil interacts with the structure to determine settlement risk so we can provide recommendations for structural changes and repairs.